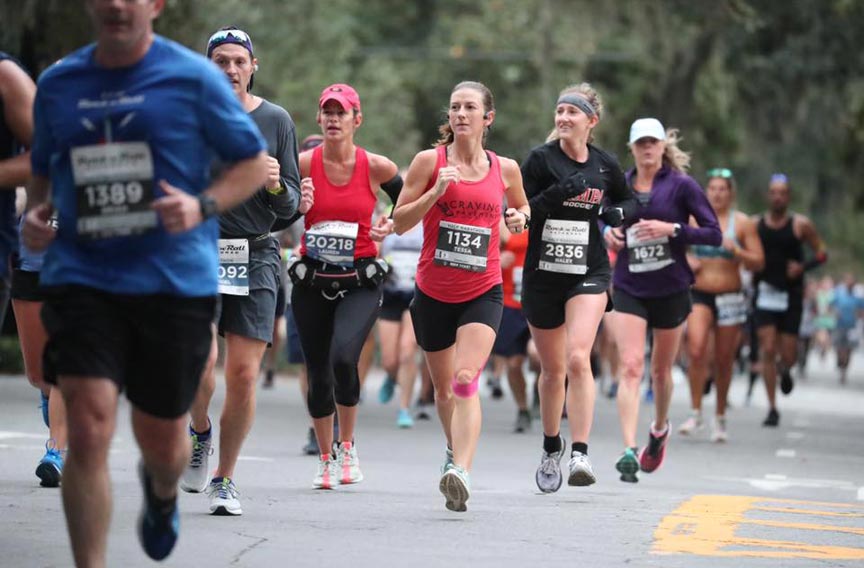 Get set for the 2021 Rock 'n' Roll Savannah Marathon! This popular, annual event sees thousands of runners and spectators hitting the streets of Savannah with live bands, cheer teams, and more. November 6th through the 7th, 2021.
Confirmation for Rock 'n' Roll Savannah 2021 came late this year due to the ongoing pandemic. Luckily, local health officials have determined that it's currently safe enough to relax restrictions on large outdoor gatherings. Runners will still need to provide proof of vaccination or a recent negative test result to participate in the race. Otherwise, the race is on with more than 15,000 runners expected to participate.
And who can blame them? Rock 'n' Roll Savannah is a whole lot of fun!
Races at the event include a marathon and half marathon, a half marathon relay, a 5K, and a 1 mile race. Rock 'n' Roll Savannah's flat, fast course takes you through the heart of the city, under Spanish moss draped oaks and past antebellum architecture. The finish line is located in beautiful Forsyth Park, just a 5 minute stroll from our Savannah bed and breakfast, McMillan Inn.
Spectators and special cheer teams will cheer you on all along the route – and don't forget all the great, live music! That's how the Rock 'n' Roll marathons got their name. Live bands from a variety of genres perform along the course, providing motivating, musical encouragement.
Even better, a live concert in Forsyth Park is scheduled for the end of the race!
2021 Rock 'n' Roll Savannah Marathon Schedule
Thursday, November 4 –
3pm to 7pm: Health & Fitness Expo
Friday, November 5 –
12pm to 8pm: Health & Fitness Expo
Saturday, November 6 –
7:30am: Marathon, Half Marathon, and Half Marathon Relay – Bay Street at Bull Street
11:30am: Post Race Concert – Forsyth Park
Sunday, November 7 –
12:30pm: 5K – Daffin Park
2pm: 1 Mile – Daffin Park
2021's course bands include:
Jared Petteys & The Headliners – Vintage Rock n Roll
Michael Daughtry & The Drift – Singer/Songwriter Rock, Folk, and Pop
Tiger Creek Band – Country/Rock
Xuluprophet – Psychedelic Swamp Boogie
Health & Fitness Expo, Swag, and More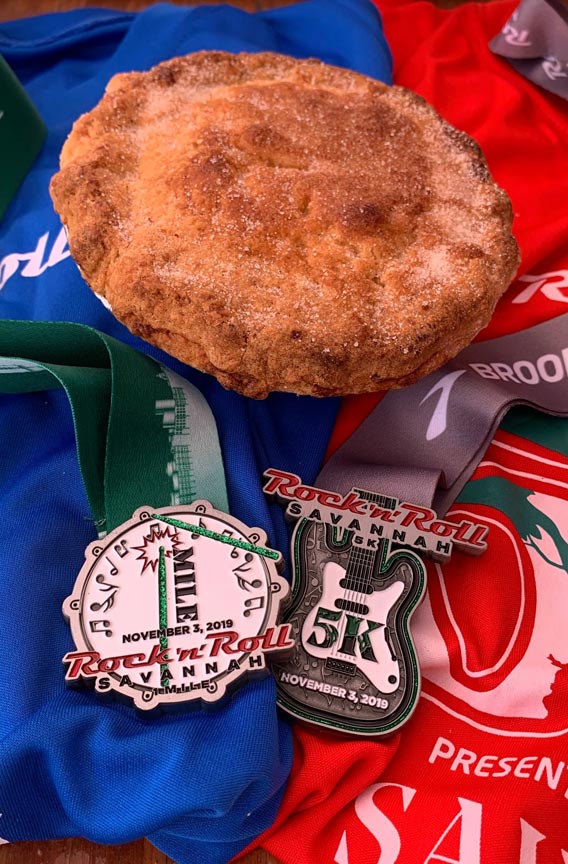 You won't want to miss the free, two-day, Health & Fitness Expo that kicks off Rock 'n' Roll Savannah. The Expo is held at the Savannah Convention Center on Hutchinson Island. Exhibits at the Expo highlight the latest in running technologies, health, nutrition, and fitness apparel.
The Expo is open to the public and all runners will need to visit it to pick up their race number, gear bag, and t-shirt. The Savannah Belles Water Ferry will shuttle you across the river to the Health & Fitness Expo for free, 7:00am to midnight.
All registered, competing runners will receive a 2021 participant t-shirt and gear bag. Those who cross the finish line receive a finisher medal for the race they competed in. A variety of other, special awards are also available.
The Remix Challenge Medal, for example, is awarded to runners who participate in both a Saturday and a Sunday race. The Sweet Georgia Pie Challenge is another favorite. Run both the 5k and the 1 Mile to receive a delicious, personal, Sweet Georgia Pie. Yum!
Visit www.runrocknroll.com for course maps, registration, and much more. You can also follow the race on Facebook.